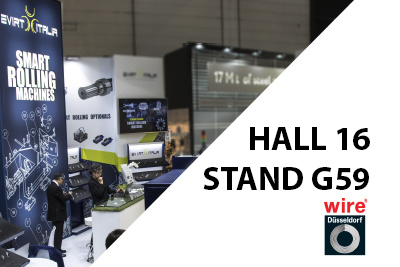 WIRE 2020
EVIRT ITALIA the most chosen manufacturer of thread rolling machines in the world, will participate again this year at the WIRE fair in Duesseldorf – from 30 March to 03 April 2020.
At our stand 16-G59 we would present for the first time in the world the most innovative 3-dies finning machine designed and produced for a reliable and effective production of finned tubes.
This machine has been totally redesigned in collaboration with two world known producers of these products, to take the production of heating pipes to another level. Don't miss the chance to see it live!
Invitations and more information about the fair are available by contacting: olga@evirtitalia.com