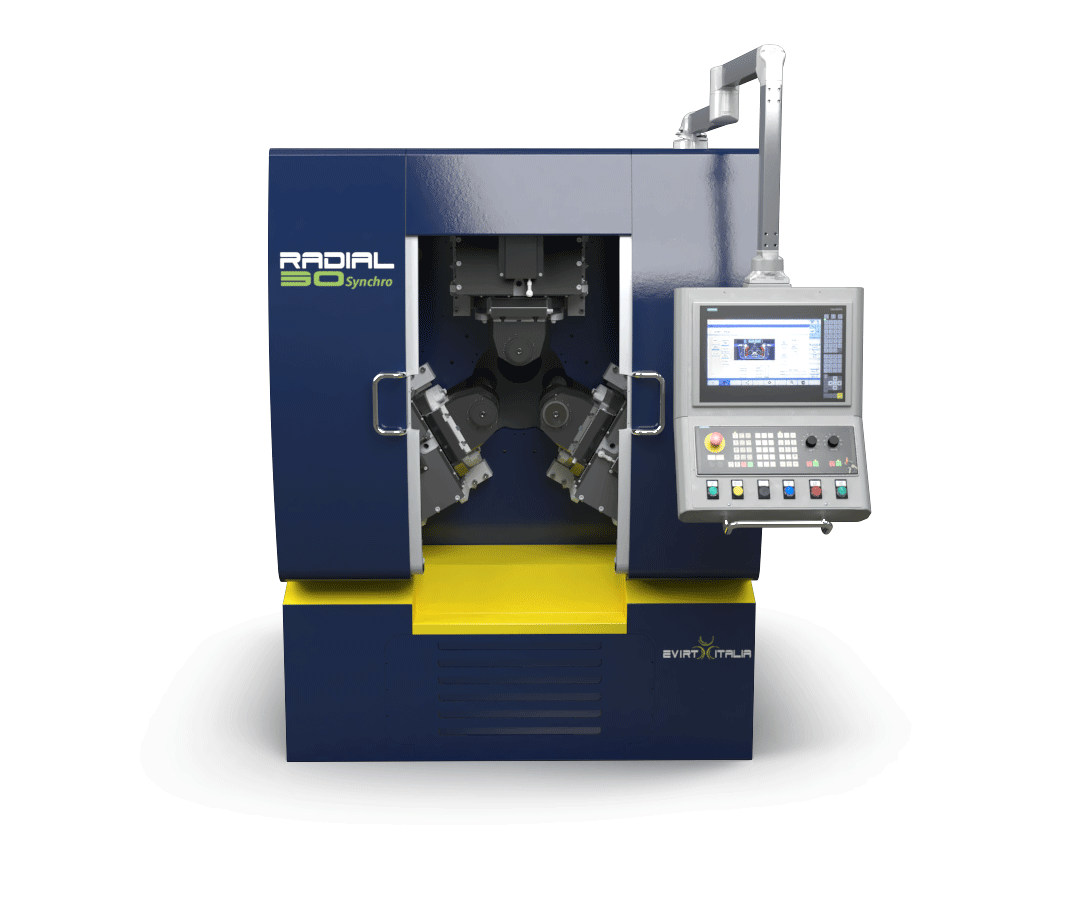 EVIRT RADIAL™ machines' series represents a highly stiff Three-Moving Slides Rolling Machines engineered and designed for various types of threads and profiles rolling. The machines included into this series are mainly suitable for threading and cold forming on cylindrical hollow components, like nipples connections, hydraulic and nuclear pipes, civil reinforcing screws and similar products.
Moreover, the EVIRT ITALIA Radial machines have been engineered and deeply tested to perform high quality Ball Screws up to C3 Class.
EVIRT RADIAL™ series is characterized by three moveable pushing heads and three rolling spindles, while its pressing force ranges from 100 kN to 1500 kN.
Due to its capacity of auto centring, the RADIAL™ series is often used in rolling of cylindrical parts with important diameters as columns, pillars and similar components.
The RADIAL machines' series has also been approved as able to provide 100% C3 class Ball Screws products.
The main lead of our EVIRT Italia RADIAL™ series machines is its high rigidity and automation. Due to brand new machines' main frames, together with its high automation level, the machines of this series are the most easy use rolling machines nowadays available on the market. In addition to this aspects, really appreciated are also its available features able to perform the complete machine's setup in a fully automatic and independent way.
The machine has been more and more approved by rolling producers also due to its low power consumption, easy maintenance and low level operating noise.
The RADIAL™ machines models have been developed to allow fast and precise infeed and throughfeed rolling operations and its spindles management is available in two different configurations:
SYNCHRO version:
Each spindle is directly connected to a Brushless motor through a high torque planetary gearbox;
GEAR version:
All the three spindles are managed in group through a single transmission moved by an asynchronous motor controlled in frequency (Siemens INVERTER).